RFQ Management and Quotations
Once a factory has been qualified, the RFQ process can continue with confidence.
Many tasks are carried out to ensure a smooth quotation process.
HMI Group works diligently to ensure that these tasks are completed fully and to the advantage of our customers worldwide.
Critical tasks such as price negotiation, tooling development, shipping evaluation of product samples, clarification of drawings and specifications, discussions of manufacturing process details, daily interface with overseas engineers and project managers and many others are handled in a timely manner to keep things on track.
HMI Group manages the RFQ process for you, ensuring that the quotations you receive are both dependable and realistic for the given project parameters.

On-Site Engineering Support
When your project requires tooling fixtures or dies to be developed, HMI Group will make this happen seamlessly. Whether you need a simple mold for plastic injection or die cast parts or a complicated multi-cavity or progressive die set built, HMI Group has the experience to get it done correctly and economically. Costs for such tooling will be included in the initial project quotation.
If you have a product that needs additional resources to develop fully, HMI Group can help. The winning combination of our broad engineering experience and well-established supplier base gives HMI Group a unique advantage in these development type situations. Utilizing both our internal engineering staff and the suppliers' resources, HMI Group can reduce development barriers and eliminate delays that help your product get developed more efficiently and brought to market faster.


Factory Identification and Evaluation
So now you're looking for someone to manufacture your product. Some questions to consider:
Where and how will you find the best manufacturer? How will you know this manufacturer fully understands your specifications and requirements? How will you know this factory is fully qualified and capable to maintain those standards over time? How can you be sure that this process will yield the results you desire?
HMI Group has been successfully executing this process since 1985 and can make sure that only the most qualified and capable factories are chosen to participate in the quotation process. HMI employees visit each potential manufacturer, conducting formal facility evaluations and interviewing key management and production personnel to ensure that all parties understand the project from the start.

Production and Schedule Monitoring
HMI Group will ensure that your product stays on schedule and ships when you need it.
Once the production process has begun, HMI Group will work closely with factory management to ensure that proper priority is placed on your products.
As your advocate, HMI Group will be directly involved in production scheduling, ensuring that sub-suppliers and production workers alike understand the urgency and timelines associated with your product's completion schedule.
If problems do crop up during production, HMI Group will work diligently to address these issues in a timely basis, proposing solutions and initiating actions to correct problems before they cause interruptions to supply.

Contract Assembly
Located in our Suzhou, facility, HMI Group has the ability to assemble your products before shipping them from China.
Contact your local HMI Group office for details on this service.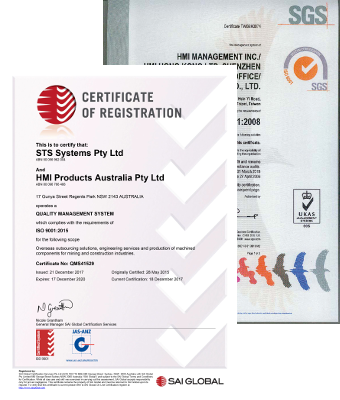 Quality Assurance and Final Inspection
High quality does not happen by accident. Any project that relies upon Quality being "inspected in" at the end of the production process is doomed to fail from the start.
To avoid this pitfall, HMI Group considers the Quality of your products at every stage of the process. By understanding your expectations and ensuring that that the factory will carry them out properly, HMI Group consistently delivers the high-quality products you expect in order to compete in today's market. HMI Group in Asia has been ISO 9001 certified for over 12 years.
As part of managing your overall Product Quality Plan, HMI Group conducts thorough inspections and manages process control at the factory level. When problems do arise, HMI Group works with the supplier to determine the root cause and propose solutions that correct the problem and minimizes delivery interruptions.

Worldwide Logistics Support
Your goods are ready to ship from the factory. Now what? Just relax and let HMI Group take care of the shipping arrangements.
By sea, by courier or by air freight, our worldwide logistics team is skilled in delivering your freight where and when you need it. Our strong relationships with freight forwarders and air freight companies around the globe ensure that you get the best service at the lowest possible rates.
Whether you are purchasing your products FOB Factory and shipping directly to your location or purchasing DDP HMI Group Warehouse and participating in HMI's Supply Chain Management program, all shipping arrangements will be handled seamlessly by HMI Group.
Contact your local HMI Group office for details.

Total Supply Chain Inventory Management
Are you looking for a way to increase efficiency and reduce costs through reduction of on-hand inventory, more dependable production planning and reduced logistics and overhead costs? If so, HMI Group Total Supply Chain Inventory Management Programs can help.
When you purchase your products from HMI Group, we handle the entire supply chain from start to finish. From seeking out and evaluating the original RFQ factories to full logistics support and warehousing and JIT delivery of the finished product, HMI Group handles every step of the procurement process for you.
Simply place a purchase order to your local HMI office and HMI Group does the rest.
Quality. Value. Close to home.
Contact your local HMI Group office to see how these programs can best work for you.

Promotional items
Whether it is a simple logo application or an entire custom OEM object, HMI can support you in the development of any customized promotional products based on your or our design.
HMI does not offer a stock of ready to customize standard products.
We rather identify the right source in Asia, we coordinate sampling and production, we hold your customized items in stock in our warehouse ready for monthly dispatch.